HOUSE OF PLASMA GMBH, TERRANIGMA SOLUTIONS GMBH AND BETTER BAU GMBH
THE WINNER OF OUR STARTUP PRIZE IS: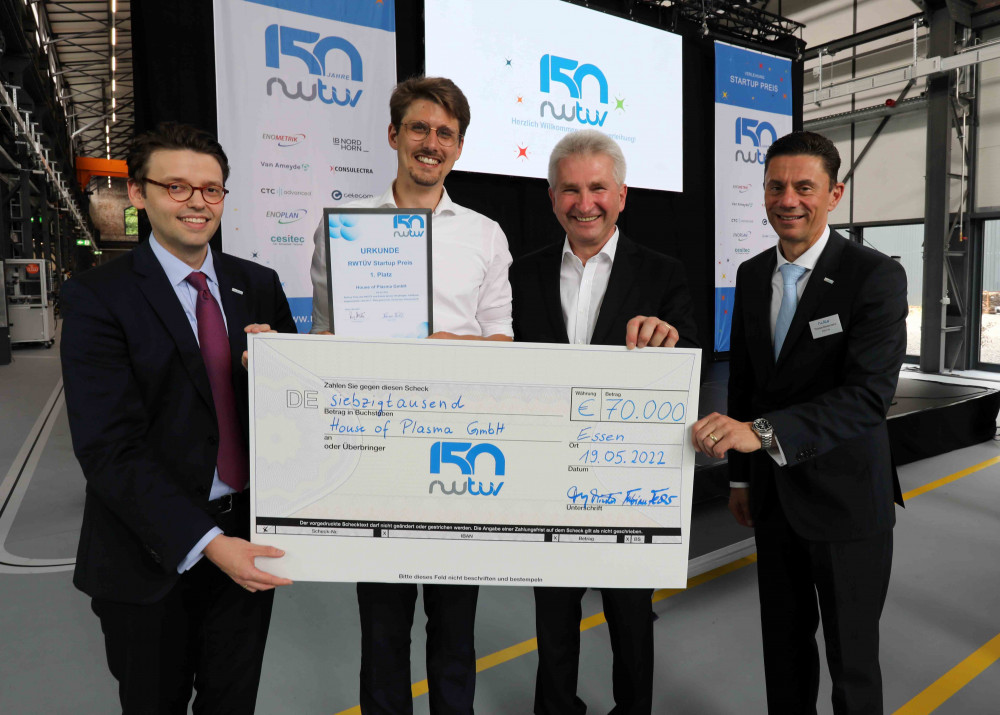 House of Plasma from Bochum! 🚀
Developers at House of Plasma have created a multipole resonance probe, which enables industry-compatible plasma diagnostics with real-time-capable electronics and evaluation.
House of Plasma offers world-class measuring technology that significantly improves the quality of plasma surface treatments in industrial manufacturing processes.
Applications include the surfaces of solar cells, ophthalmic and optical lenses, PET bottles and electronic devices that are plasma treated. The ability to constantly monitor and regulate plasma processes is a challenge to which the Bochumers found an elegant solution.
Real-time measurement of performance-critical plasma surface treatment parameters allows end points of the process, drifts and instabilities to be identified and automatically regulated.
In our jury's view, solving this problem and making production parameters measurable is real Industry 4.0 from North Rhine-Westphalia (NRW) and worthy of our highest award!
SECOND PLACE WINNER OF THE RWTÜV STARTUP PRIZE IS:
Terranigma Solutions GmbH from Aachen 🚀
Terranigma has created a cloud-accelerated solution for shaping digital geomodelling workflows.
It enables remote evaluation of mineral deposit sites and allows better predictions regarding the success of deposit exploration. The ability to do 3D geological modelling on the go, whether from the office or in the field, saves time and resources.
Efficient exploration of raw material deposits is important not only in respect of rare earths, for example, which we need especially for e-mobility and the energy transition, but also because of ongoing supply chain issues and current geopolitical events.
Terranigma's offering is at the forefront of computational geoscience and addresses one of the hot topics in business and politics today.
OUR THIRD PLACE WINNER IS: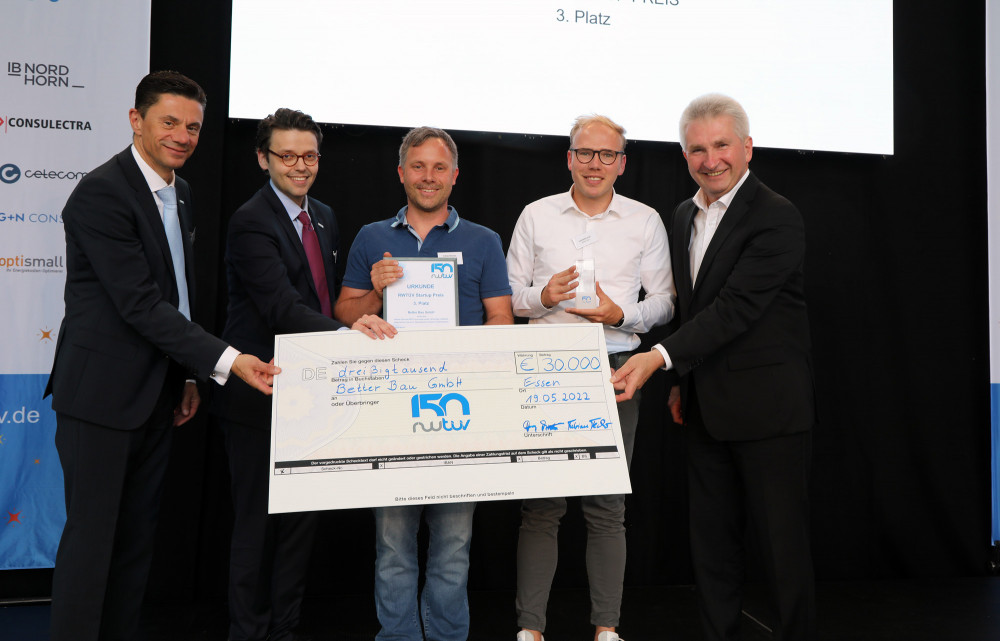 Better Bau GmbH from Essen 🚀
Better Bau GmbH offers software for architecture and engineering firms that simplifies code and regulatory compliance in the construction industry.
 
Fire safety regulations in particular are becoming increasingly complex – a good example is Berlin's new airport (BER), whose opening was repeatedly delayed in part due to its fire safety system.
 
To prevent something like this from happening in NRW, Better Bau provides a platform-based solution for legal issues relating to fire protection, and shines a light into the darkness of regulation.
 
Clients of Better Bau can enter the parameters for their construction project on the platform and automatically receive a response concerning the fire safety requirements for their project. We think this is an impressive business idea!
OUR SPECIAL PRIZE WINNER: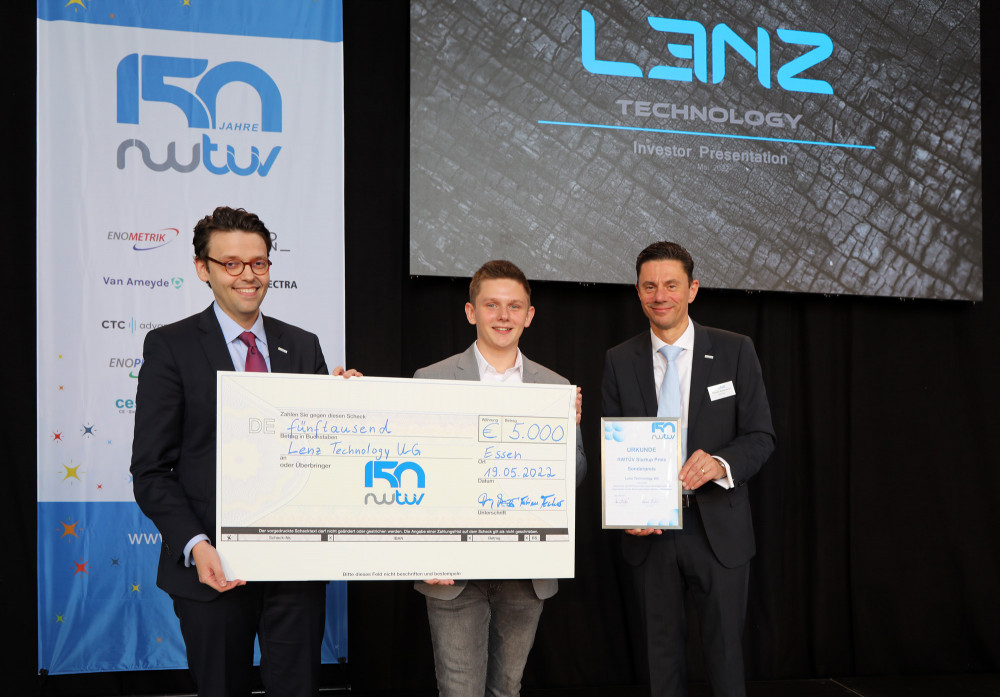 LENZ Technology UG (haftungsbeschränkt) aus Gelsenkirchen 🚀
19-year-old young entrepreneur Denis Drosdzol entered our Startup Prize competition with his company LENZ Technology UG (haftungsbeschränkt) and its exciting product "LƎNZ tip-over protection".
The process engineering student from Gelsenkirchen has previously won awards in the Jugend Forscht and Leitidee 2021 competitions, as well as a special prize from the German Society for Non-Destructive Testing (DGZfP e.V.)
Serving in the volunteer fire department (Freiwillige Feuerwehr), Drosdzol had some harrowing experiences during the flooding of the Ahr valley. Our jury was impressed with his saving idea 💡 for a life-threatening problem: simple but convincing tip-over protection for submersible pumps protects firefighters from contaminated water and electric shocks during disaster operations, and facilitates the safe pumping out of floodwater.