Essen and Kreuztal, Germany, 24 May 2022  Last Thursday, the startup elite of North Rhine-Westphalia (NRW) gathered at Campus Buschhütten in Kreuztal. The event was hosted by RWTÜV GmbH – which operates through its Telecommunications & IT, Energy & Environment, and Insurance Services business units. A total of 150,000 euros was awarded to three young entrepreneurs for their innovative business ideas. The occasion marked the 150th anniversary of the Essen-based Group, which was founded in Siegen in 1872.
House of Plasma GmbH, represented by CEO Dr. Moritz Oberberg, collected the trophy for first place and prize money of 70,000 euros. "I am thrilled and speechless," he beamed from the stage. "This is a great award and an incredible amount to receive!" Oberberg was the first winner to speak in front of the 50 invited guests, including the Minister for Economic Affairs, Innovation, Digitalisation and Energy in the State of NRW, Prof. Dr. Andreas Pinkwart – who acts as patron of the prize – and first deputy mayor of the city of Siegen, Angela Jung.
House of Plasma is the developer of a multipole resonance probe, which enables industry-compatible plasma diagnostics with real-time-capable electronics and evaluation. The measuring technique permits a significant improvement in the quality of plasma surface treatments in industrial manufacturing processes. Applications include the surfaces of solar cells, ophthalmic and optical lenses, PET bottles and electronic devices. Fabian Fechner, Managing Director of RWTÜV, summarised the jury's view: "The ability to measure production parameters in plasma applications is real Industry 4.0 from NRW and is worthy of our highest award!"
The second winner, with an award of 50,000 euros, was Terranigma Solutions GmbH, based in Aachen, for their cloud-accelerated solution for designing digital geological modelling workflows. In third place was Better Bau GmbH, from Essen. They offer software for architecture and engineering firms that digitalises and massively simplifies code and regulatory compliance in the construction industry, especially for fire protection regulations.
RWTÜV announced the Startup Prize in January under the patronage of Prof. Dr. Andreas Pinkwart, who helped present the awards in Buschhütten. More than 60 applications were received from the fields of environment, IT, construction, quality management and STEM. An expert panel – comprising representatives from the research and business communities as well as RWTÜV – chose the three winners. "The winners impressed us because they immediately thought about the economic potential of their technical innovation, and developed it as a viable support for industry. This shows business acumen and a culture of innovation that we consciously want to promote here in NRW, our home region for 150 years," says Thomas Biedermann, Managing Director of RWTÜV.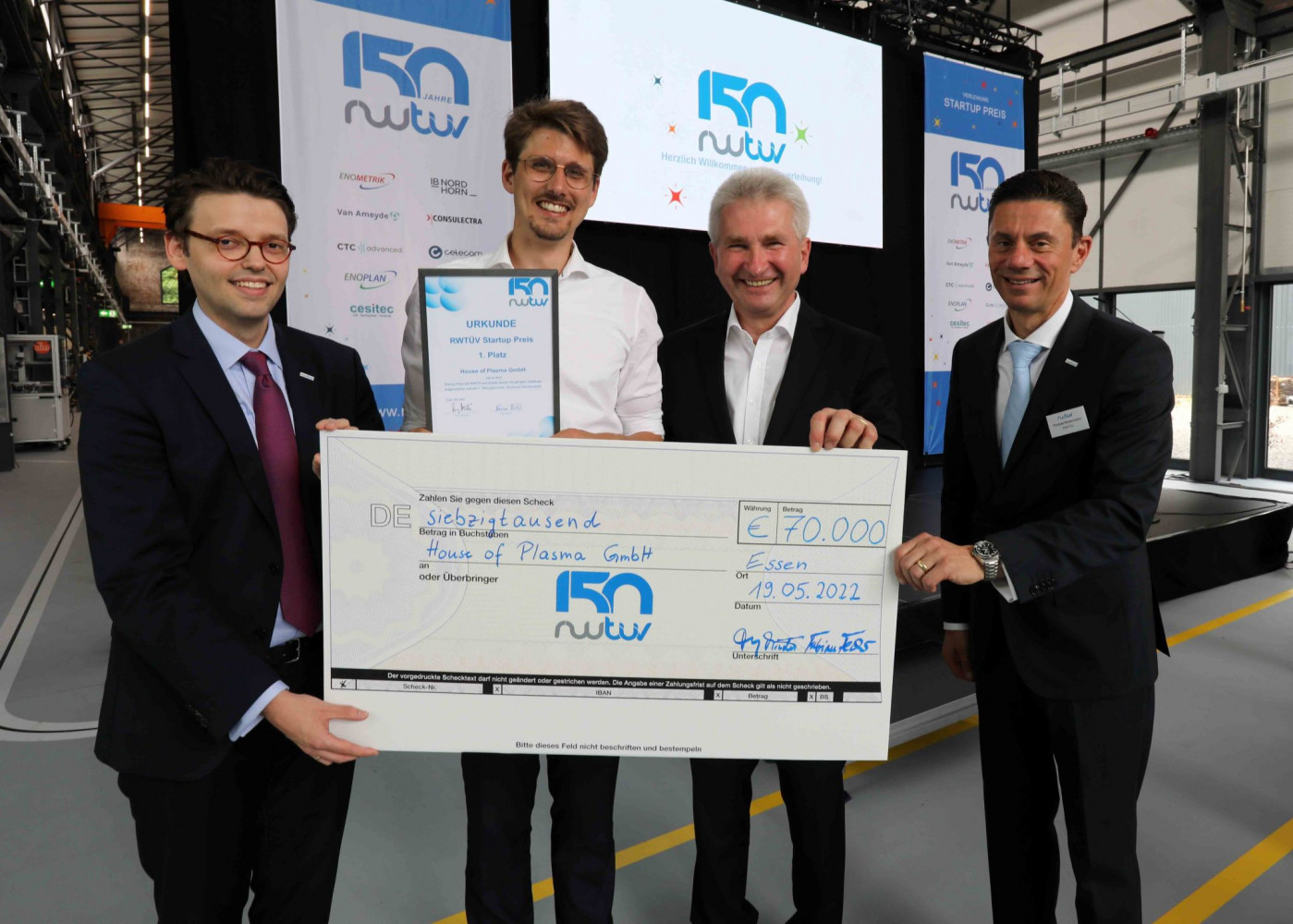 Photo: (l. to r.) Fabian Fechner, Dr. Moritz Oberberg, Minister Prof. Dr. Andreas Pinkwart, Thomas Biedermann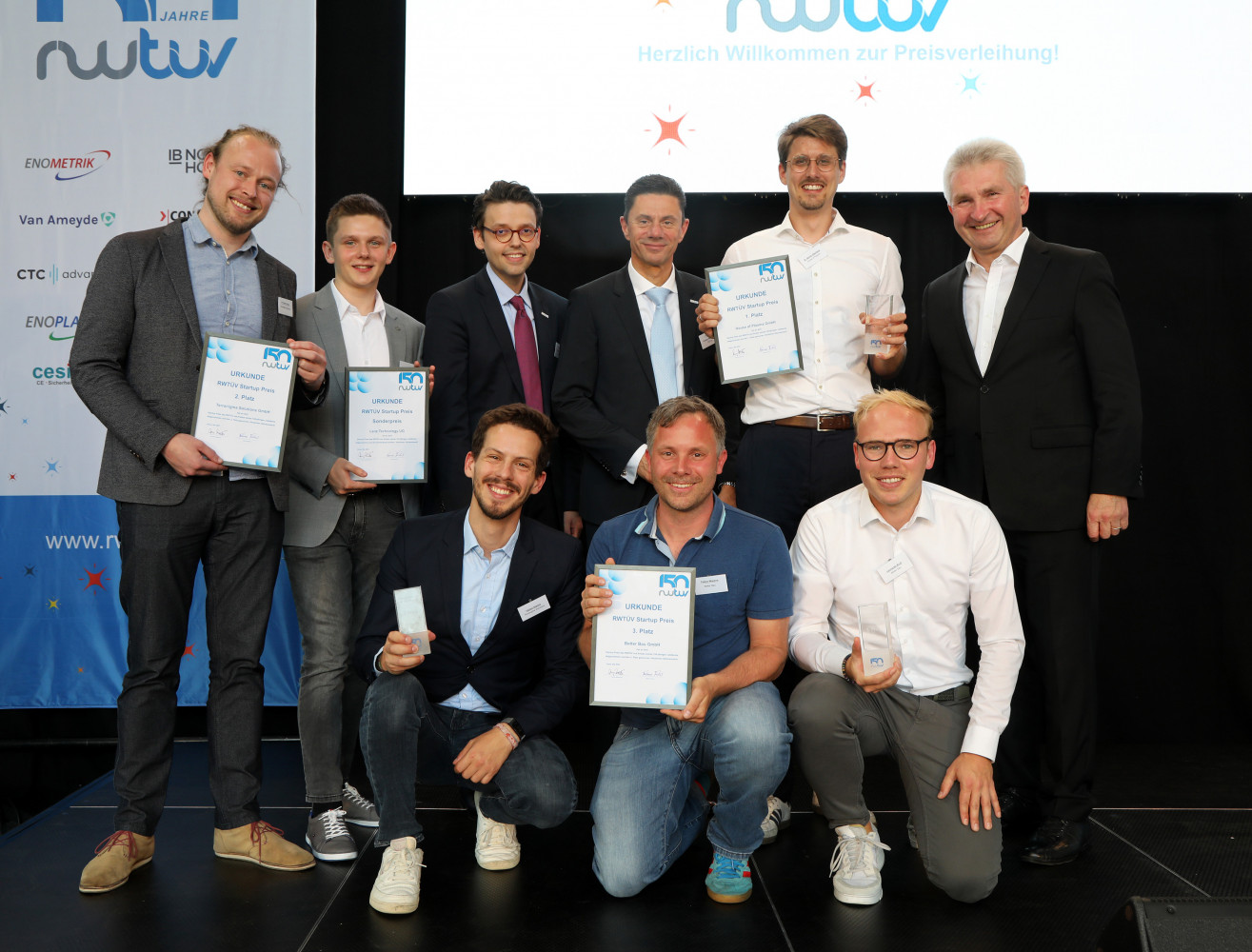 Press contact
Nina Haisch-Rautenberg
Phone: +49 201 125 2121
Email: @email
Drive digitalisation forward, strengthen data security - this motto already applies to all three business units of the RWTÜV Group. The management has now set the course for the further expansion of activities in the area of IT security: APRO GmbH from Erfurt has been part of the Group family since 4th April 2022. The eleven-strong consulting team is booked throughout Germany and Europe for IT security, information security, emergency management, secret protection and data protection projects. Clients are companies and especially public administrations that need support in implementing laws (BSIG, BDSG) or standards (BSI-Standard 200-x, ISO27001).
"We are very proud to welcome APRO GmbH as part of our group; what belongs together comes together!", says a delighted Fabian Fechner, Managing Director of RWTÜV GmbH.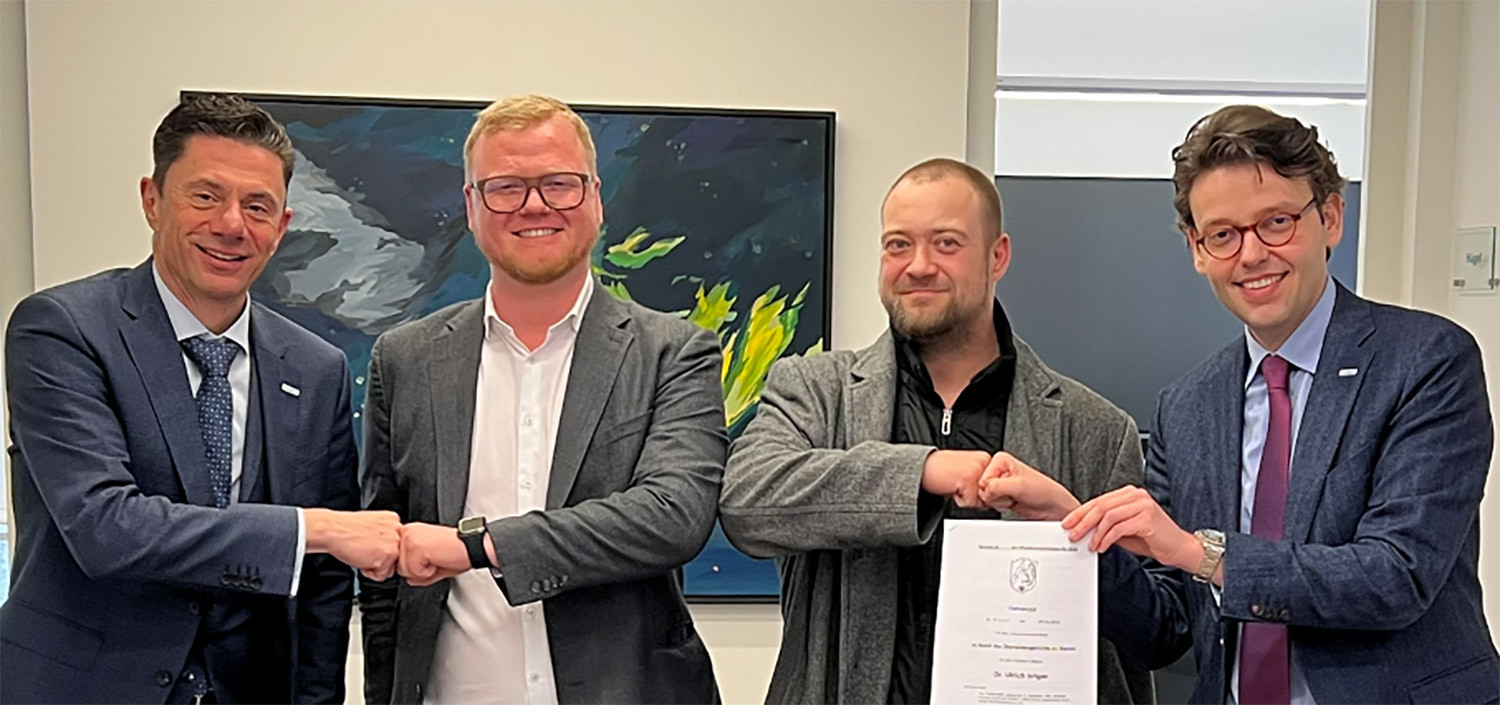 A little more than two years ago, the RWTÜV subsidiary CETECOM created the Knowledge Centre on its website. The idea behind this platform was to collect and provide information and know-how on the subject of testing and approval of products with radio technologies.
What was just an idea at the beginning, where it did not seem clear to what extent this topic would be accepted, now contains a multitude of materials and more than 10,000 visits, downloads and registrations of the provided content.
"With a total of 23 webinar recordings, seven white papers and more than 120 news articles on all aspects of testing and certifying products with wireless technologies, our subsidiary CETECOM has succeeded in creating a central point of contact for the transfer of knowledge," says Thomas Biedermann, Chairman of the Board of Management of the group holding company RWTÜV GmbH.
CETECOM says thank you for the interest, the participations, the questions and the downloads from customers and business partners.
CETECOM sees this response as an incentive and intends to continue publishing new topics on a weekly basis.
Visit the Knowledge Center or subscribe to the newsletter to never miss a publication. It's worth it.