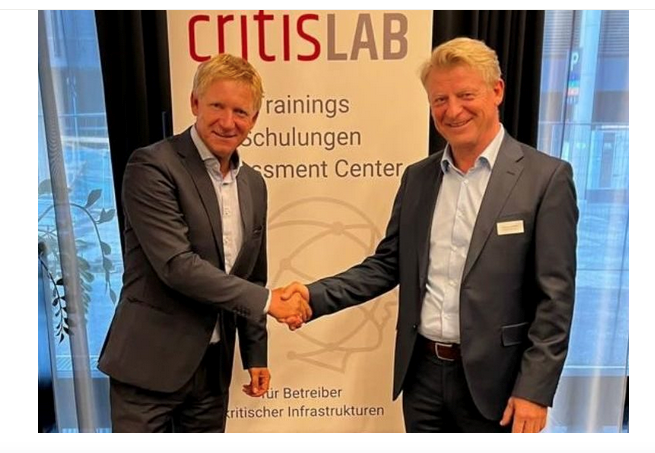 Dr. Bernd Benser, critisLab (left) and Torsten Brinker, CONSULECTRA © CONSULECTRA
CONSULECTRA GmbH, a subsidiary of RWTÜV, has acquired shares in the Brandenburg-based startup critisLAB Schulung und Training GmbH, effective September 1, 2022.
Torsten Brinker, Managing Director of CONSULECTRA GmbH, expects further growth for both companies through this investment: "We are partners and serve similar customer segments with different services. While CONSULECTRA is one of the leading service providers in the field of network control technology and IT system implementation, planning and project engineering of energy facilities, IT security for CRITIS infrastructure, e-mobility as well as power plants and heating systems in the energy sector, critisLAB offers training and education for electricity network operators as well as a unique network guide assessment center to date. "critisLAB advises critical infrastructure operators, such as gas and electricity network operators, as well as transport companies, airports or power plant operators, with consulting services in the areas of business protection and crisis management.
"The critisLAB team led by Dr. Bernd Benser developed a comprehensive offering in a very short time and despite the restrictions imposed by Corona, and quickly gained a very good reputation in the industry," explains Brinker. Contractual partner Benser assesses the situation in the same way: "With CONSULECTRA, we have gained a partner with the highest reputation in the industry, who understands it perfectly, recognizes trends and sets them. In addition, CONSULECTRA, as a wholly owned subsidiary of RWTÜV, is naturally interested in standardization. We collaborate with network operators on various projects to unify and standardize training and continuing education in the sector. It's an absolute win-win situation.
The group's parent company, RWTÜV, also views the relationship favorably. "We are very pleased that CONSULECTRA is expanding an already existing cooperation through its participation in critisLAB, thanks to which we can offer our customers an even more comprehensive service package, especially in the CRITIS environment. The two offers complement each other perfectly", says Fabian Fechner, Vice Chairman of the Board of Directors of RWTÜV.
Press contact:
Nina Haisch-Rautenberg
Tel.: +49 201 / 125 2121
E-Mail: @email
Essen/Leipzig, 5 July 2022 The RWTÜV Group, an independent group of companies with international participations in insurance services, telecommunications and energy & environment, and a shareholder in TÜV Nord AG, is strengthening its expertise in the construction sector with a further acquisition.
As part of an early succession plan, the company Mörbitz Nordhorn Ingenieure in Leipzig has joined the group. MN Ingenieure plans innovative and comprehensive building services (heating - air conditioning - ventilation - sanitation - electrical) for residential complexes, industrial complexes and hotels throughout Germany in collaboration with builders, architects, project managers and construction companies and also implements these plans - since 29 June 2022 now under the RWTÜV Group umbrella. "We are delighted about this competent addition, which optimally complements the Group's range of services in the field of technical service planning in the Energy & Environment business unit," says Fabian Fechner, Managing Director of RWTÜV GmbH, welcoming this acquisition.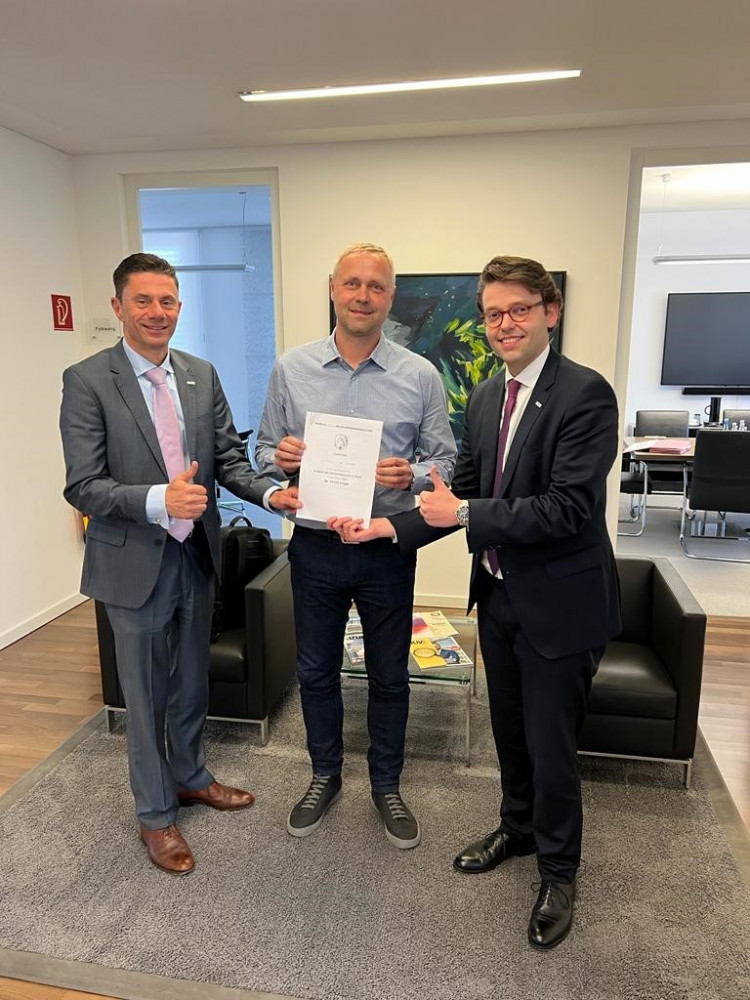 Press contact:
Nina Haisch-Rautenberg
Tel.: +49 201 / 125 2121
E-mail: @email
Essen, 14 June 2022 RWTÜV marked the high point of celebrations taking place throughout the year with a special anniversary event on Thursday, 9 June 2022. Around 60 invited guests included the Mayor of the City of Essen, Thomas Kufen, as well as the Advisory Board, Supervisory Board, representatives of the Group's other governing bodies and the managing directors of the subsidiaries. Via films and audiovisual presentations, they learned about the colourful history of the long-established company, which started out in 1872 as the "Steam Boiler Inspection Association" (Dampfkesselüberwachungsverein). They were also given a highly motivated outlook on the future of RWTÜV. "Today, we are no longer a classical TÜV inspection association, but we embody its traditional values and technical competence – and are building on them," said Thomas Biedermann, Managing Director of RWTÜV. "You can expect to hear a lot more from us on this topic," he added. In his congratulatory speech, Mayor Kufen praised the successful marriage of local roots with internationalisation, as well as the preservation of Mittelstand values as a fertile ground for future vision and leadership.
The evening at Group HQ in Essen continued with a display of artwork and a concert performed by young musicians from the Folkwang University of the Arts. Guests were impressed by the exhibited works of Mehmet Karacas, Juri Kims and Hang Dongs, all three recent graduates of the University of Fine Arts Essen (HBK Essen).
The anniversary celebration was a highlight for the company, which has grown over 150 years from a self-help association into an agile group with activities in the fields of energy and environment, IT and telecommunications, and insurance services. A few weeks ago, under the patronage of Prof. Dr. Andreas Pinkwart, Minister for Economic Affairs in the State of North Rhine-Westphalia, the RWTÜV Startup Prize worth a total of 150,000 euros was awarded to three promising startup companies from the region; the inauguration of "RWTÜV Campus" – an internal innovation and training platform – took place on 10 June.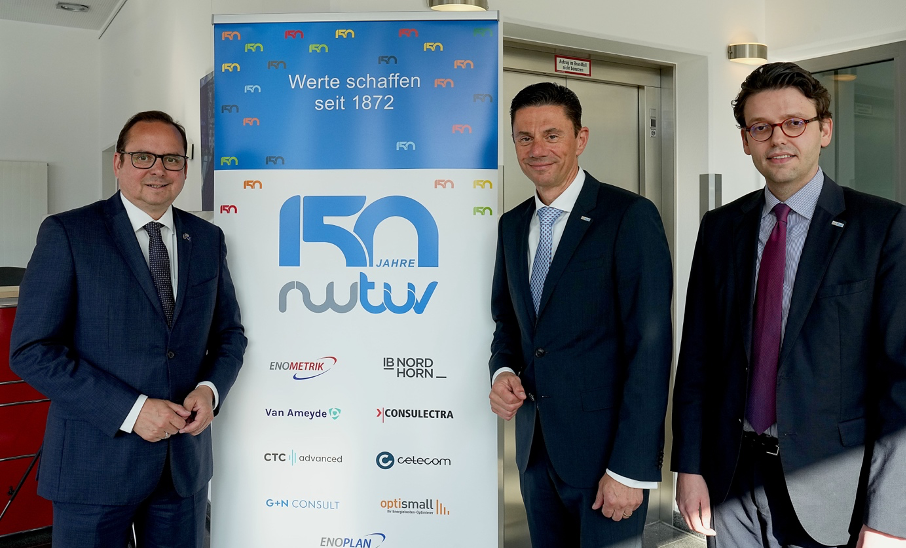 Photo (l. to r.): Thomas Kufen, Mayor of the City of Essen, Thomas Biedermann, Fabian Fechner, Managing Directors of RWTÜV GmbH. © Michael Gohl
Press contact:
Nina Haisch-Rautenberg
Phone: +49 201 125 2121
Email: @email