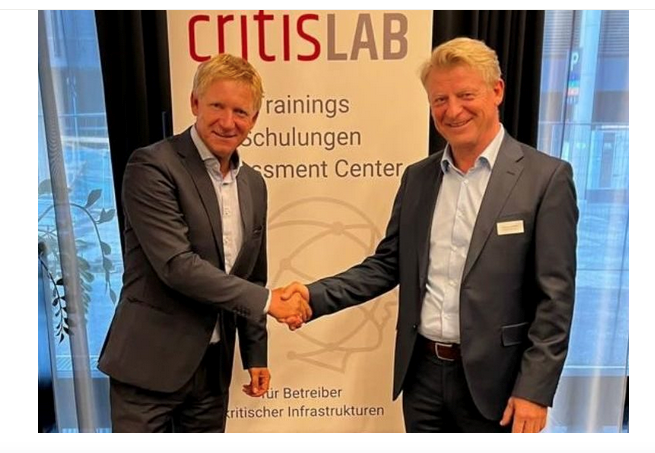 Dr. Bernd Benser, critisLab (left) and Torsten Brinker, CONSULECTRA © CONSULECTRA
CONSULECTRA GmbH, a subsidiary of RWTÜV, has acquired shares in the Brandenburg-based startup critisLAB Schulung und Training GmbH, effective September 1, 2022.
Torsten Brinker, Managing Director of CONSULECTRA GmbH, expects further growth for both companies through this investment: "We are partners and serve similar customer segments with different services. While CONSULECTRA is one of the leading service providers in the field of network control technology and IT system implementation, planning and project engineering of energy facilities, IT security for CRITIS infrastructure, e-mobility as well as power plants and heating systems in the energy sector, critisLAB offers training and education for electricity network operators as well as a unique network guide assessment center to date. "critisLAB advises critical infrastructure operators, such as gas and electricity network operators, as well as transport companies, airports or power plant operators, with consulting services in the areas of business protection and crisis management.
"The critisLAB team led by Dr. Bernd Benser developed a comprehensive offering in a very short time and despite the restrictions imposed by Corona, and quickly gained a very good reputation in the industry," explains Brinker. Contractual partner Benser assesses the situation in the same way: "With CONSULECTRA, we have gained a partner with the highest reputation in the industry, who understands it perfectly, recognizes trends and sets them. In addition, CONSULECTRA, as a wholly owned subsidiary of RWTÜV, is naturally interested in standardization. We collaborate with network operators on various projects to unify and standardize training and continuing education in the sector. It's an absolute win-win situation.
The group's parent company, RWTÜV, also views the relationship favorably. "We are very pleased that CONSULECTRA is expanding an already existing cooperation through its participation in critisLAB, thanks to which we can offer our customers an even more comprehensive service package, especially in the CRITIS environment. The two offers complement each other perfectly", says Fabian Fechner, Vice Chairman of the Board of Directors of RWTÜV.
Press contact:
Nina Haisch-Rautenberg
Tel.: +49 201 / 125 2121
E-Mail: @email